Our team works with our missionaries, national partners, and local churches to mentor and mobilize the next generation of cross-cultural workers.
Frank Yang, Executive Director
Frank Yang has been Executive Director of UB Global since January 2021. Before that, he had served on the staff as an associate director since 2011.
Frank was born in China, and came to the United States at a young age with his parents, growing up on the east coast. His undergraduate degree was in engineering from Cornell University, and he later earned a Master's in Intercultural Studies from Wheaton College. He worked in financial services in Hartford, Philadelphia, and Fort Wayne.
Frank and Virginia were married in 2004, and later served four years as missionaries in Asia. They have two young children and are members of Emmanuel Community UB church in Fort Wayne, Ind.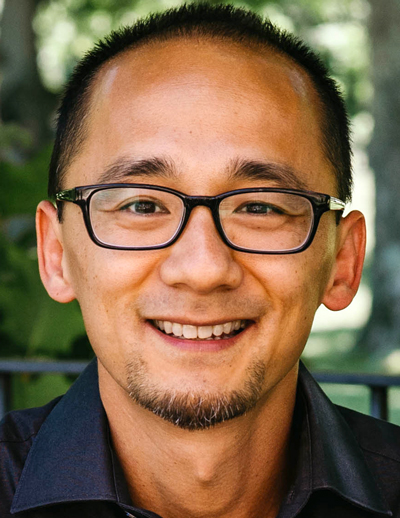 Serving More, Serving Better
Each member of the UB Global team brings years of cross-cultural experience. The three associate directors each oversee UB work in at least one or two countries.
The UB Global Team works with local churches:
Inspiring and training our churches through many one-day Ignite regional mission conferences.
Consulting with churches to develop their local church missions strategy and team through our process called Missional DNA
Serving at the National Conference and UB Women's Conference.
Speaking in dozens of churches and leading prayer gatherings.
The UB Global Team mobilizes missionaries:
Walking alongside dozens of individuals exploring missionary service.
Offering quarterly On Mission webchats with those interested in serving overseas.
Engaging Christians with regular up-to-date prayer tools and missions resources.
The UB Global Team serves on-field missionaries:
Providing focused care and support to our missionaries, whether those going through a crisis or just normal life on the field.
Strategizing with them and deepening missions impacts in their region.
The UB Global
Team Fund
We established the UB Global Team Fund as a way for people and churches to support the staff who work at the national office. This fund provides for their compensation, travel, and other expenses of the associate directors and administrative assistant.
We encourage supporters to contribute to the UB Global Team fund. We greatly appreciate your support.