Global Ministries comes alongside a number of missionaries from United Brethren churches who serve with other organizations. By granting "endorsed" status, Global Ministries is basically telling the UB constituency, "These are missionaries you should consider supporting."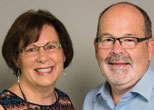 L-r: Ron and Brenda Anderson, Jaime Clore, Arek and Donna Delik, Marion and Candy Hall.
Ron and Brenda Anderson serve in Spain with European Christian Mission, International. Ron facilitates church multiplication movements around the world.
Jaime Clore serves in Spain with SEND International and works with local youth.
Arek and Donna Delik serve with Operation Mobilization in Kutno, Poland, a city of about 54,000 people with very few evangelical Christians. They are planting a church and ministering among alcoholics and the poor.
Marion and Candy Hall serve with World of Life Bible Institute in the Czech Republic.
Undisclosed. A family serves in a closed country.







Top row, l-r: Wes and Jean Bell, Brian and Cathy Birdsall, Sarah Bonner, Neal and Carol Brinneman, the Datema family.
Bottom row, l-r: Abby Farmer, Jessica Hollopeter, the Reed family, Roger and Mary Lou Skinner, the Weber family.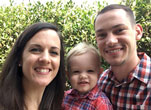 L-r:Bryan and Emily Gerlach, the Mallay family.
Bryan and Emily Gerlach serve with TEAM in Thailand, where they work with a local church.
Seth and Becca Mallay serve with World Medical Mission, the medical arm of Samaritan's Purse, in Togo, West Africa. Seth is a doctor.
Jason and Rachel and their two children work with Operation Mobilization in Canada. They produce Christian media for a sensitive part of Central Asia with a team of believers from a Muslim background.
Undisclosed. Two other families serve in Asia in sensitive places.


L-r: The Churchill family, Rick Tyler.
Fraser and Sherry Churchill serve the Canadian national office of Operation Mobilization in Port Colborne, Ontario. Fraser is Director of Development, and Sherry is Hospitality Coordinator. They have been with OM since 1986.
Rick and Diane Tyler coordinate short-term mission efforts with Christian Missions Resource Centre, based in Ontario.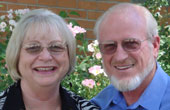 L-r: The Andino family, Chris and Brenda Moore, Roger and Marilyn Reeck, Dave and Becky Spencer, David and Teresa Roberts.